Our rooms
Our two attractive and comfortable bedrooms, as well as the modern, spacious bathroom, are situated on the 2nd floor of the house.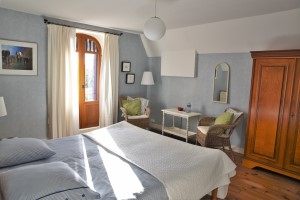 The east room, "Mûrier", is named after the two Mulberry trees which shade the terrace in our back garden. The 14, 5 square metres bedroom has a double bed of 210 x 160 cm. The west room, "Cèdre", is named after the Cedar tree in our front garden, which is almost 100 years old. This bedroom is 19, 5 square metres with a bed of 180 x 200 cm with two separate mattresses and duvets. The beds in both rooms have top quality mattresses. Our guests can choose whichever room they prefer.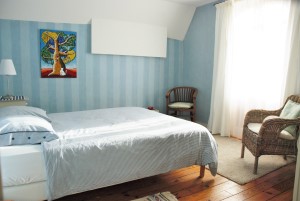 Our accomodation is ideal for a family with 2 children; or for two couples who are willing to share the bathroom. For families with a baby we do have a baby bed and a baby chair at your disposal. For clients who require one bedroom only, we will guarantee not to let the second bedroom, at no extra charge, to ensure sole use of the bathroom.
Clients are welcome to use our fast Internet connection free of charge. Wi-Fi facilities provide internet access throughout the house and garden.
Some more pictures








For 2023 our prices are:
Per night for one bedroom:
for two people 96 Euro
for one person: 82 Euro
Per night for two bedrooms:
for four adults: 152 Euro
for three adults: 140 Euro
for two adults: 130 Euro
Parents with children under 16:
1 child in an own room: 120 euro
2 children in own room: 130 euro
Prices include breakfast. The town tourist tax of 0.83 Euros per night / per person (children under 18 are free) is not included and is added to the final bill.
For stays of three nights or more the price will be reduced by 10%.
Payment can be made in cash, by cheque or by bank transfer in advance.
We would be happy to collect any clients arriving by train at Périgueux's main railway station.
Table d'hôtes
We would be happy to provide dinner, for which advance booking is required. We offer our guests to share dinner with us as "to eat what's cooked". This is always a light, healthy and freshly cooked meal. We charge 23,00 euro per person including non alcoholic drinks (1), coffee or tea. Children from 6 to 12 pay 9,5 euro. ( children younger than 6 eat for free )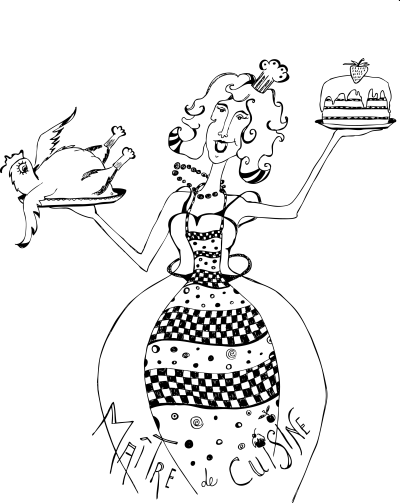 (1), We have no license to serve wine, you are welcome to bring your own wine or when booking to request us to deliver it for you!
We regret that we cannot accept animals. We have a no-smoking policy in the house.